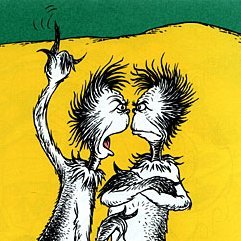 Dr. Sues tells the story of two make-believe creatures called Zax. One is a north-going Zax whose job is to continue to move north. The other is a south-going Zax whose purpose is, you guessed it, to travel south. Eventually these two extremists bump into each other and they refuse to budge. Neither will move an inch in any other direction sticking resolutely to rigid, nonsensical principles. They both reach an impasse and time quickly goes by. The world carries on all around them, while they stand in an eternal staring contest. We can use this simple story about the futility of being uncompromising to explain what the political system in the United States has devolved to. Except instead of traveling toward one another, each of our two political parties is deliberately trying to walk as far away from the other, and ultimately as far away from any middle ground, as possible. Radical ideas like forcing Mexicans to build border walls to keep Mexicans out of the United States and legalizing weed on the federal level are put on the table. Extreme stances on women's rights collide, with one side declaring that women should have no control over their bodies, while the other insists that there is no difference between the genders at all. And the list goes on and on and on. Like the Zax when one party does something the other party does not like, that party shuts down the government, literally creating a situation where neither side can move.
The extremism in BOTH political parties is a direct result of their refusal to cooperate with each other.
They actually kinda look like Zax
No one is willing to take the middle-road. Neither side wishes to capitulate even on the simplest of issues. Now each party is competing to prove how extreme it can be. Consider the present front runners of the 2016 Presidential race, Trump and Sanders.
Contrary to what Republicans delude themselves into thinking, Trump is not someone who represents a minority of the conservative vote: he
--a loud-mouth reactionary with no plan and no platform except hatred, racism and insults--
is the very personification of the Republican party. Sanders is on the other end of the extreme. A complete personification of everything that is wrong with the Democratic party. He is a loud mouth intellectual who's too smart to believe in God. A secular Jew, shouting platitudes, promising hand outs through socialism, pandering to potheads and atheists and pitting social classes against one another the results of which pushes liberalism to an extreme it will never recover from. Secularism, amorality, and an anything-goes mentality characterize the liberal party, while bigotry, corporate greed, sexism, and a Christ-less Christianity erode the conservative party. Both Sanders and Trump represent everything that is wrong with our political system. Look what we have become!
The worse part is that unlike Dr. Sues's fictional Zax, who ultimately only end up hurting themselves, our political parties have the ability to demolish America's standing in the world, destroy the principles we claim to believe in, and bring ruin to each and every one of our citizens. The costs are tectonic!
God Bless America.